Petrobangla Job Circular 2022 has been published on the official website of Bangladesh employment agency. Also, Petrobangla Job Circular 2022 has been posted on bdgovtjobs.com the main government jobs website in Bangladesh. Bangladesh Oil, Gas & Mining Corporation Job Circular 2022 is an ongoing issue in Bangladesh Govt Job.
We have released the new Petrobangla Cycle 2022 here for the unemployed people of Bangladesh. There are many job opportunities for unemployed people in Bangladesh.
You know everything about petro bangla job circular 2022, like how to apply, application start date, and working age limit, about PetroBangla, read this post carefully if you are interested in Petrobangla Job Circular 2022.
Also, you can download petrobangla.org.bd Job Circular 2022 here, which is posted on www.petrobangla.org.bd.
Petrobangla is a state-owned oil company in Bangladesh. It is engaged in the exploration, production, refining, and marketing of petroleum and natural gas in Bangladesh. The company has also entered into a cooperation agreement with international oil exploration companies for the exploration and development of oil and natural gas in Bangladesh. This company was established on March 26, 1972. There are eleven companies under this company.
Petrobangla Job Circular 2022
If you are looking for latest govt job circular / Petrobangla Job Circular 2022, then you have come to the right govt job post on our website. Petrobangla has released the job cycle for the recruitment of Bangladesh government employees in their organijation.
Petrobangla will continue to recruit 16 persons in 08 categories of posts through public service. The Petrobangla recruitment cycle has created a golden opportunity for Bangladesh government job seekers to get government jobs.
All eligible Bangladeshis can apply for this government job if they have passed Class Eight Pass, SSC Pass, HSC Pass, Degree Pass, and Graduation Pass. View all job postings from below and apply for the best job for you, based on your suitability.
Petro Bnagla's job application process is online through the teletalk website. You must apply for Petrobangla job by 12 November 2022. Check out more details from below Petrobangla Job Circular
Bangladesh Oil, Gas & Mineral Corporation Job Circular 2022

Employer
Petrobangla
Employer Type
Government
Job Publish Date
14 October 2022
Jobs Category
Government Jobs
Age
18 to 30 years for general and quota candidates 18 to 32 years
Total Man
08
Total Man
16
Salary
9,300 to 26,590 Taka
Educational Qualification
View below
Other Qualification
See below
Gender
Both men and women
Jobs Benefits
See below
Jobs Salary
View in circular image
Apply Process
Online
Apply The Start Date
23 October 2022 at 10:00 AM
Apply The Last Date
12 November 2022 at 5:00 PM
Apply Link
View below
Official Website
www.petrobangla.org.bd
READ MORE:
Petrobangla Job Circular 2022 Image
Check all Petrobangla job circle  vacancies in the official image below and choose the one you think is the right candidate. Petrobangla Job can be an exciting time, like government job circular . You can visit our website regularly if you want updated information of Petrobangla Job Circular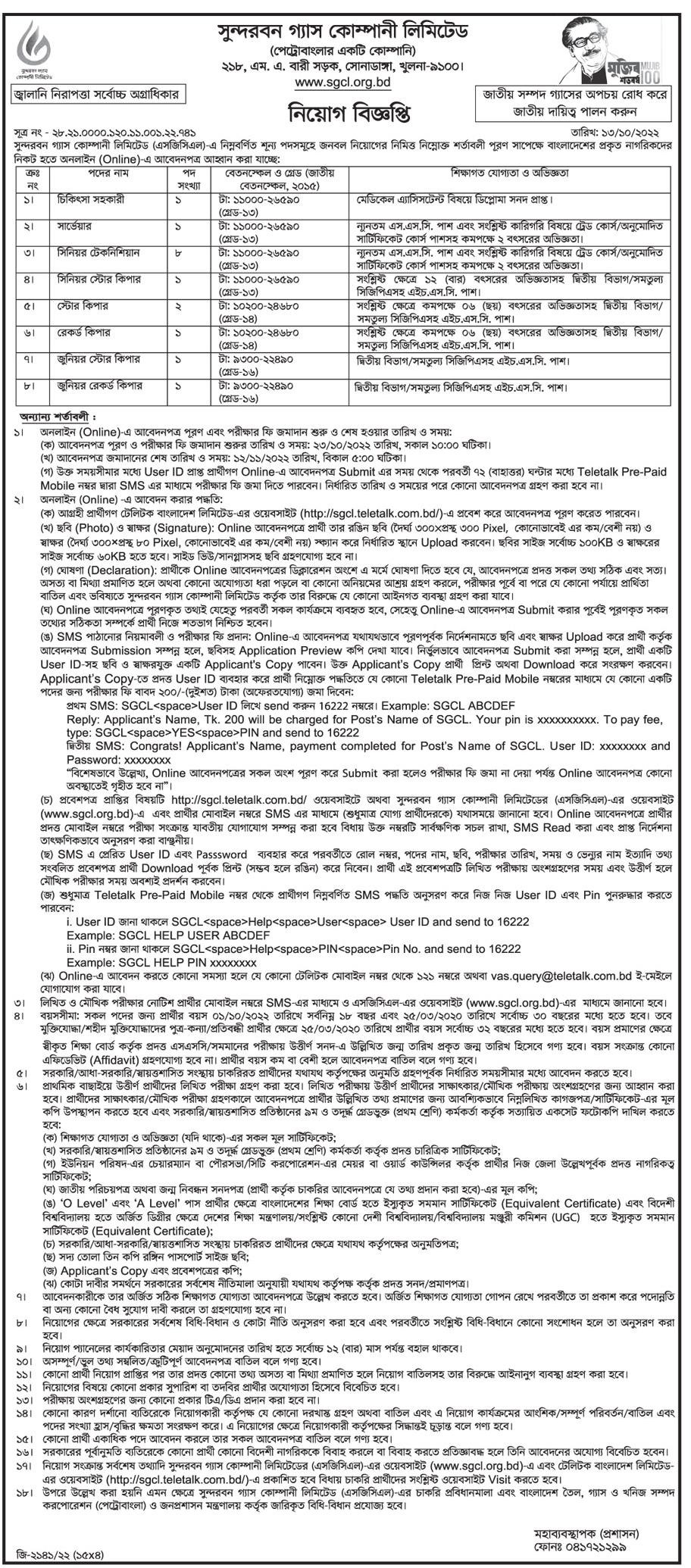 petrobangla job circular 2022 apply online
petrobangla job circular 2022 pdf
petrobangla job circular 2022 assistant manager
petrobangla job circular 2022 teletalk
titas gas job circular 2022
petrobangla exam date 2022
Petrobangla Job Circular PDF
We have added Petrobangla Job Circular  PDF to our server for unemployed people. You can carefully check Petrobangla Job Circular  from PDF file.
Also, a PDF file of the Petro Bangla Working Circle has been published at www.petrobangla.org.bd by Petrobangla authority. Also, You can check the announcement of this conference from the official website petrobangla.org.bd. Please see link to download PDF file of Petrobangla below.
Petrobangla Job Application
How to apply for Petrobangla Job online; officially listed in Petrobangla Job Circular  image above. Candidates must apply for Petrobangla job before 12 November 2022. See below for Petrobangla full job application.
sgcl.teletalk.com.bd Apply
The Petrobangla job application process will start on 23 October 2022 and end date is 12 November 2022. You must visit the Petrobangla online application link to submit job application.
First of all go to this link sgcl.teletalk.com.bd.
Then click on "Apply Now."
Select your Petrobangla job post to fill up the application form.
If you are a premium member of alljobs.teletalk.com.bd, then click "Yes," Otherwise click on the "No."
Give all your real information in the chosen job post application form.
Re-check all data and click on the "Next" button.
Upload your photo and signature image in the recommended size.
Finally, click on the "Submit" button to submit the Petrobangla job applicaiton.
Petrobangla Job Admit Card Download
When the Petrobangla service welcome card is issued, Petrobangla will notify you by sending a text message to your phone. Next, you can download your Petrobangla service authorization card from sgcl.teletalk.com.bd.
Petrobangla Job Examination
You have to write a job test that will be selected by the management of Petrobangla. Normally, Petrobangla inspection starts with 03 steps.
Written Exam.
Practical Exam.
Viva Exam.
 Petrobangla Job Exam Date Seat Plan
The authorities will publish the exam date and seat schedule on their official website for the applicants in the Petrobangla Job Circular. For this, you need to visit your Petrobangla website to see the related activity.
Also, you can see your Petrobangla job review date and job schedule on our website. We publish all government job notifications on our website, such as exam dates, extended job notification, seat plans, results, and more.
Petrobangla Result 2022
Bangladesh Petrobangla Result 2022 will be released after completing all applicable exams. You can see Petrobangla results on our website. We publish the job results of all jobs in Bangladesh on our website.
For Petrobangla job results visit our website regularly. We publish the govt job circular and it ends as Petrobangla Job Circular.
Other Information
You can apply for multiple Petrobangla jobs simultaneously. But combining job post exams and other things can get you into trouble. For that, it would be better to apply in a recruitment circular.
You can view Petrobangla Job Circular 2022, all updates on the official website.
Petrobangla Job Circular 2022 authorities have the power to cancel at any time.
Last Words, Petrobangla Job Circular
If you want to get a government job in 2022, you should search Petrobangla Job Circular Recruitment Notification Job according to your qualifications. To get a job, know the details and apply for the right job position in the right way.