DISA NGO Job Circular 2022 has been added to the daily online job portal and is one of the leading training portals on chakrirkhobor.guru. DISA NGO is the national NGO for social development of Bangladesh.
The good news is that lately, NGO have been looking for new staff to fill their organizations. You can see all the details and think you are the right person to apply for this job. We hope you enjoy this international job or this NGO, apply now!!
DISA NGO New Job Circular Requirements
Company Name:
DISA NGO
Post Name:
Credit Officer
Published Date
12 May 2022
Application Deadline
31 May 2022
Number of Vacancies: 
300
How To Apply 
Follow Job Circular Image
Age Limit
Follow Job Circular Image
Educational Qualification
Follow Job Circular Image
Experience Requirements
Follow Job Circular Image
Salary
Negotiable
Job Category
Private Company
Job Location
Anywhere in Bangladesh
Job Nature
Full Time
Job Source
Online Newspaper
Other Benefits
 As per Company Policy
নতুন নতুন নিয়োগ পাবেন এখানে
নতুন চাকরির খবর পেতে যুক্ত হন
Company Information
Company Name
Development Initiative for Social Advancement
Company Type:
NGO Company
Official Website:
www.disabd.org
DISA NGO Job News 2022 Image
If you want to know all the information about the DISA NGO Job Circular 2022, please confirm DISA Bangladesh Job Description 2022 Below.
You can download the image and find out all the details of the application. Once the application details are known, submit your application before the deadline according to the rules.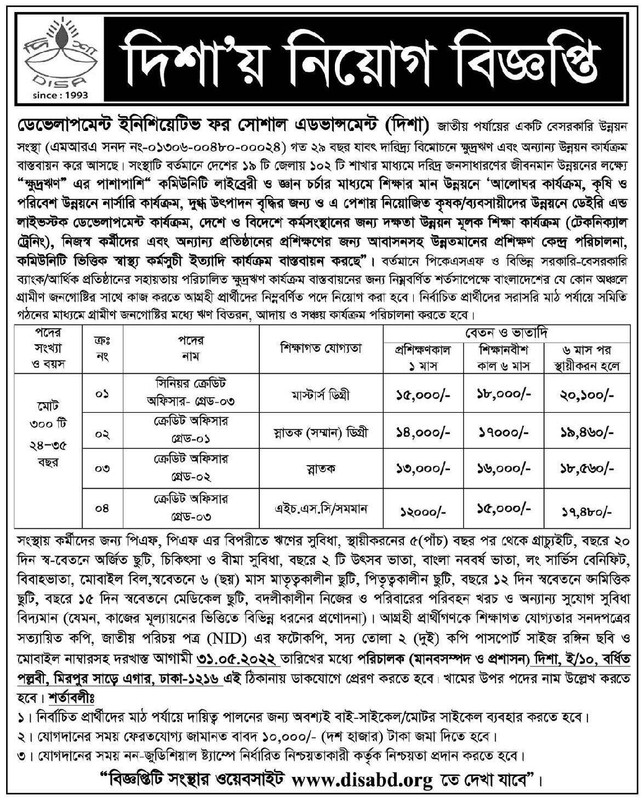 ■ Application Deadline: 31 May 2022
Apply Online through DISA Official Likedin Page
DISA NGO Job Circular 2022
We are convinced that the DISA NGO Job Circular 2022 is the best news about local NGO job for job seekers. Especially for people looking for new development jobs in Bangladesh.
We have now provided the user with all the information about DISA jobs in Bangladesh. Below is detailed information to help you find out what the job is and how to apply for a DISA job.
In any case, HSC Pass, SSC Pass, MBA Pass, Engineering and Graduate Pass students can apply to any NGO.
DISA Bangladesh is undoubtedly the top ranked NGO. If you think you qualify for a job with an NGO, please follow the application process.
DISA New Job Circular 2022 Requirements
To apply for a new job at DISA 2022, you must be familiar with the job requirements for DISA NGO Job Circular 2022. Below we describe all the requirements, including position, position, work level, education, application, experience requirements, salary, application. Deadline and so on.
DISA NGO Job Circular 2022 Apply
We believe that you should apply after reading the circular on the job of the DISA Bangladeshi NGO.
To apply for the above position and for more information, please contact Visit the official website at www.disabd.org for subscription information such as email address and physical address.
in any case In case of problems with the DISA job Circular, please contact us. Thank you.