DDM Job Circular 2022: Department of Disaster Management 2022 has been uploaded to the online job portal. In addition, vacancies from DDM Job Circular 2022 appeared on the website. chakrirkhobor.guru.
DDM Disaster Management is looking for four new employees.
Ministry of Disaster Management DDM is a very important sector in Bangladesh. In this online post we have shared the details of the Department of Disaster Management  job circular 2022. If you want to job in the Disaster Management department, read the details description below.
The Department of Disaster Management responds to the Bangladeshi Government Service Circular (DDM 2022).
দুর্যোগ ব্যবস্থাপনা বিভাগের চাকরির বিজ্ঞপ্তি ২০২২
Are you looking for DDM Job Circular 2022 that was founded by the Disaster Management department? If you answered yes, they offer good job news. The good news for you is that the DDM Disaster Management department has posted a new vacancy on the department website.
Bangladesh Ministry of Disaster Management is expanding its organization to include highly educated and qualified citizens, according to official figures in the Department of Disaster Management job circular 2022. If you are an officially qualified person. This is a good chance to get a government job.
By this, we mean that civil servant candidates should do everything they can to get a job. It must comply with the relevant regulations. and report to the agency in a timely manner. View everything and select the position you want to apply for below.
DDM Job Circular 2022

Employer
Department of Disaster Management DDM
Employer Type
Government
Jobs Type
Government Job
News Source
Online
Publish date
23 May 2022
Total Post
07
Total Man
173
Educational Qualifications
See in the below image
Other Qualifications
See below
Application Process
Online
Application start date
25 May 2022 at 10:00 AM
Application the last date
24 June 2022 at 5:00 PM
Official website
http://ddm.gov.bd
Online application apply link
See below after the job picture
Job Posts and Vacancy
Computer Operator – 01
Upper Division Assistant – 23
Driver – 04
Security guard – 11
Wireless Operator – 07
Office Assistant cum Computer Typist – 115
Office Shohayak – 12
Total Man: 173
Educational Qualification
Everyone has a different level for this title. Candidates for at least AO buses can apply. The training is clearly described by the official notification office. See the official announcement below.
Age
Candidates must be between 18 and 30 years old. However, the age limit for children with disabilities and freedom fighters has been raised to 32 years if they do not agree with the age.
Salary
This government job has a fixed salary grade for each position.
District
Not all districts can apply for this government job. All the districts from which they can apply have been mentioned in the official notice.
Gender
Both men and women can apply for this job.
Expreince
New people can apply for the job.
DDM Job Circular 2022 Image
Official photos of the employees of the Disaster Management Department can be viewed here. The official notices published on the official website of the Disaster Relief Department have been published to job seekers by the Disaster Relief Department. See DDM Job Circular 2022 below for details.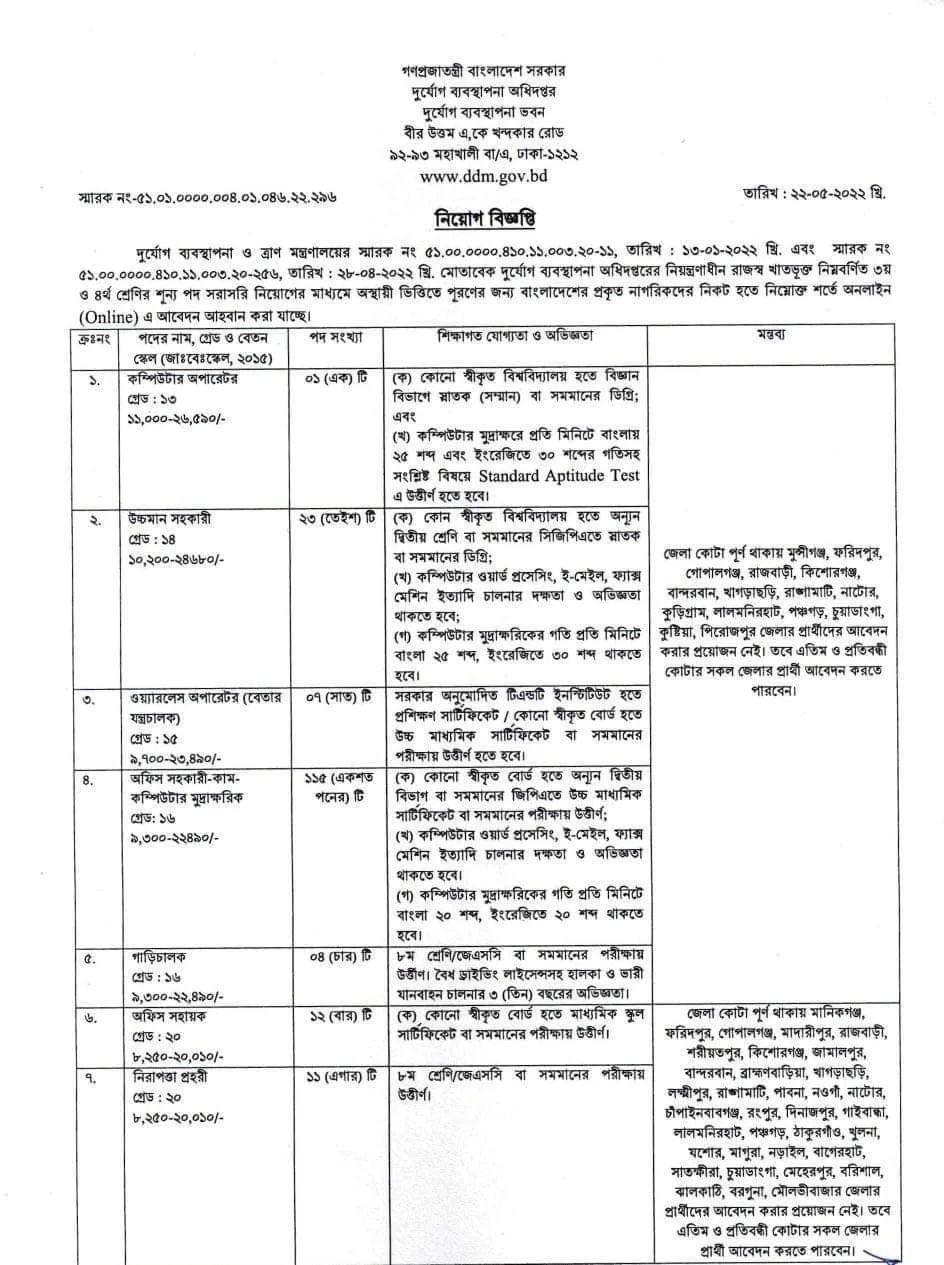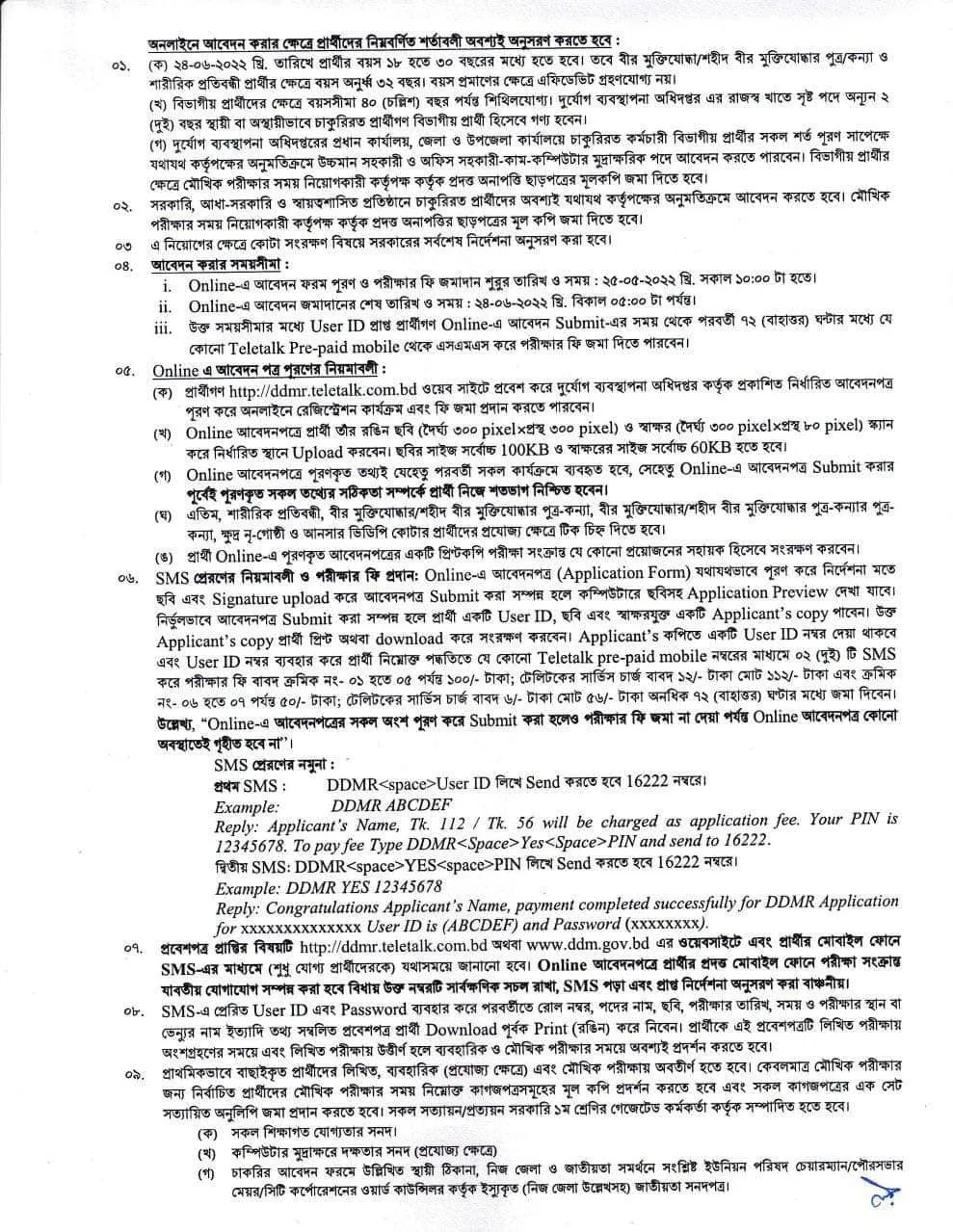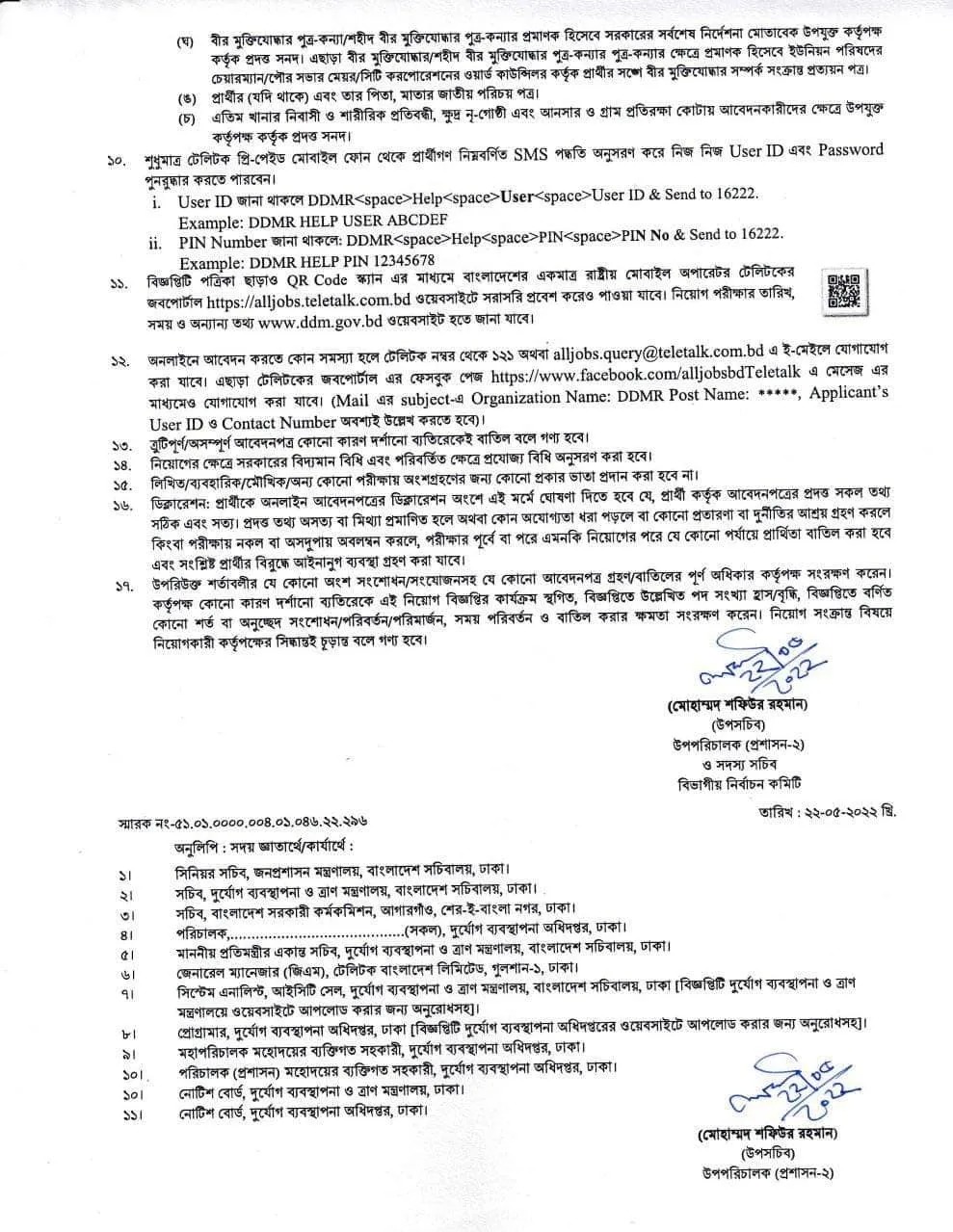 Source: Official Website, 23 May 2022.
Application The Start Date: 25 May 2022 at 10:00 AM.
Application The Last Date: 24 June 2022 at 5:00 PM.
Online Application Link: http://ddmr.teletalk.com.bd
DDM Job Circular 2022 PDF
You can also view the vacancies of the Disaster Management department in PDF format on our website. The job postings shown in the image above have been converted to PDF so that job seekers can easily find job information. See the DDM Circular 2022 PDF download link below.
DDM Job Application Process
The DDM application process for the Department of Disaster Management is online. The officially announced application process will begin on May 25, 2022 at 10:00 AM at ddm.teletalk.com.bd below. We shared the entire process with the applicants. Below are details on how to apply for the DDM Job Circular 2022 .