The Cantonment Board of Bangladesh Circular was published Cantonment Board Job Circular 2022 on the official website . Those who wish to apply for a job with the Cantonment Board can apply to the Cantonment Board through this job post.
You can find all the information about the Cantonment Board Job Circular 2022 on the internet, which the Cantonment Board publishes on its official job circular website.
The due date shows you how to apply for a position. Salary, position, etc. It is important that the court is aware of the necessity of this job . You can view this command line as a jpg or pdf image. In the next section, we provide download links for jpg and pdf files on our website.
Cantonment Board Job Circular 2022
Cantonment Board Job Circular 2022 is one of the most interesting public job circular that appeared on our website in January 2022. It creates great opportunities for the skilled unemployed people. Find a job with the Cantonment Board in Bangladesh if you want to do community service. You can apply to this job circular committee in your community that matches your qualifications.
However, some unemployed people may not qualify for this job. This is because the authorities have identified several characteristics that should be included in the application.
So, if you are looking for a job in the county, you need to get training and other qualifications or else you will be fired. So read, for example, do the job carefully and choose leave based on your education and other qualifications.
Job Short Summary
Job employer
Cantonment Board
Job employer type
Government
Job category
BD Govt Job
Job publish date
24 April 2022
Job news source
Online
Total post
01
Total man
See in the circular image
Educational qualification
See in the official appointment notice picture
Experience requirement
See in the job image
Job apply
Manually
Job apply the last date
26 May 2022
Official website
https://cbb.gov.bd
Cantonment Board Job Circular Picture
Those who search the web for images of the Official Cantonment Board Job Circular 2022 can view and download the official JPG job information in this section.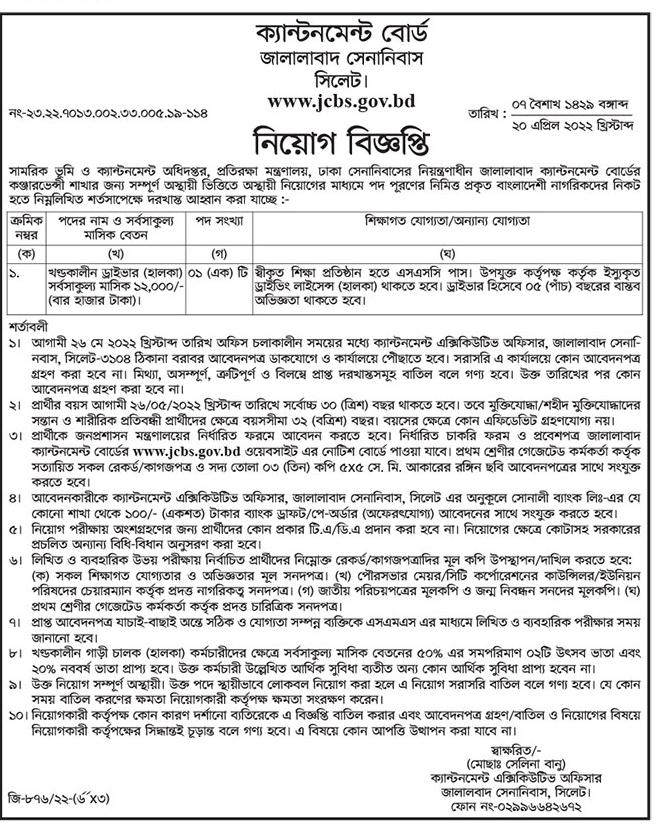 Source: Bangladesh Pratidin, 24 April 2022.
Last Date: 26 May 2022.
Cantonment Board Job Circular 2022 PDF
We also shared the Cantonment Board Job Circular PDF with the Cantonment Board Job Seeker. This full job posting page has been converted to PDF format so job seekers can easily see the details. Click on the link below to download the Cantonment Board worksheet in PDF format.
Cantonment Board Job Apply 2022
Applying for a Public job, You must first go to the official website of the Cantonment Board and download the application form. Fill in the relevant information. and will be delivered to your office on time and make sure the information on the application form meets your requirements.
Follow official provincial government announcements and follow all instructions when applying for a government job. See the official image above for more details.