Bashundhara Group Job Circular 2022: Who wants to find a job in Bangladesh Bashundhara Group in 2022? Good news from our Bashundhara Group and chakrirkhobor.guru. No doubt the Bashundhara Group Job circular 2022 is too important for anyone who wants to get a good and safe job in a private company. We have shared the Bashundhara Group job Circular which is officially published on Bangladesh largest recruitment website bdjobs.com.
You can easily and quickly view everything related to the Bashundhara Group Job circular 2022. business flyer on our website once the application is launched. Have you applied for Bashundhara Group job? How much training do you need to get a job in Bashundhara?  online application link submission Latest subscriptions and other important things. So please read carefully if you are interested job in a private company in the Bangladesh.
Bashundhara Group is one of the largest industrial plants in Bangladesh. It started its journey through the housing business in 1987.
Bashundhara Group Job Circular 2022
Are you looking for a new job at Bashundhara Group? If you are looking for The good news for job seekers today is that Bashundhara Group has posted a new job circular . There is no doubt news of job vacancies from Bashundhara Group is good news for educated unemployed people in Bangladesh.
Bashundhara Group will appoint some people in their vacant job posts. See the full title of vacancies in the image below. All Bangladeshi citizens eligible for this circular apply if they are interested and qualified. Bashundhara Group job application has latest information and other important details. See Bashundhara Group overview below.
Company/Organization: Bashundhara Group.
Post of Name: As per circular.
Publication Date: 29 March 2022
Job Type: Private Job
Educational Requirements: See circular below.
Official Website: www.bashundharagroup.com
Age Limit: As per circular.
Job Nature: Full-Time
Application Deadline: 06 & 08 April 2022
Salary: Negotiable.
Job Location: Anywhere in Bangladesh.
Source: Kalerkantho (ekalerkantho.com)
Bashundhara Paper Mills Job circular 2022
We shared the Bashudhara Group Job Circular 2022 image which is published on bdjobs.com by the authority of Bashudhara Group. You get to know deep details from the below job circular official image.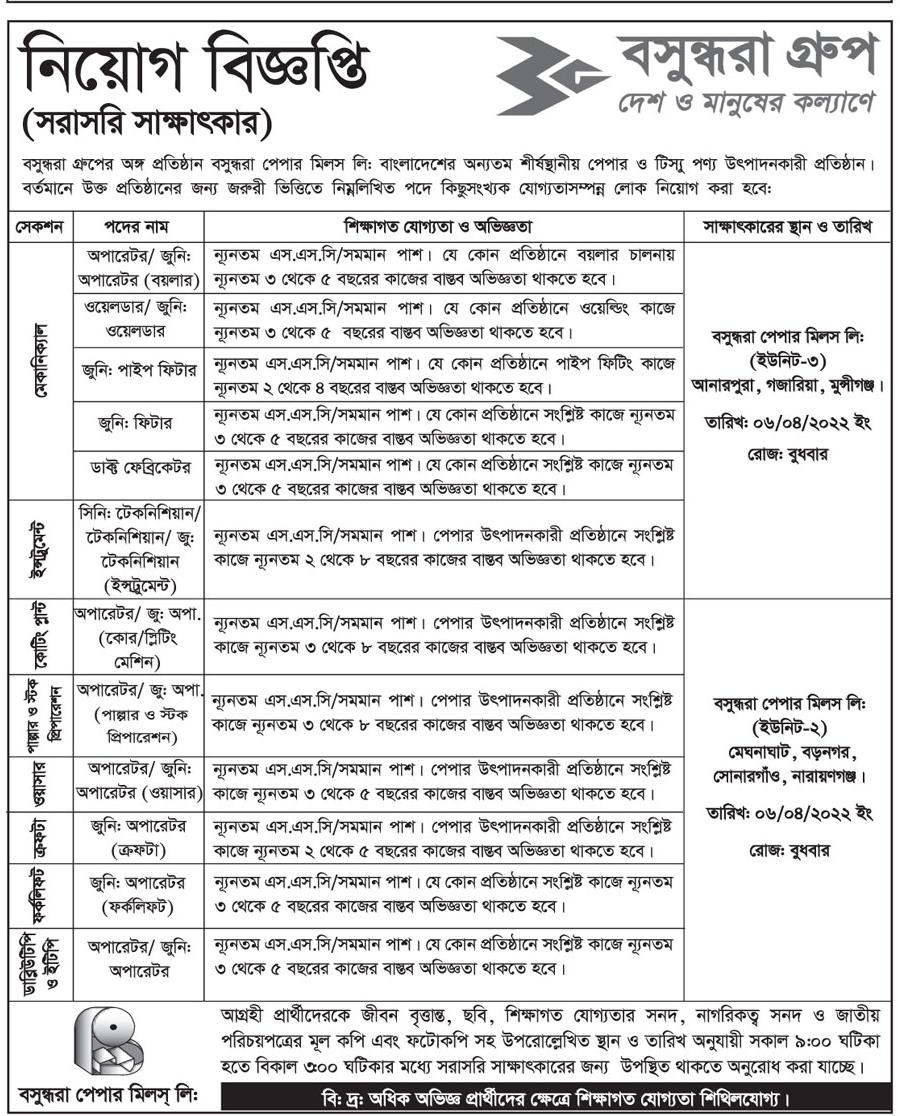 Source: Online, 30 March 2022.
Interview Date: 06 April 2022.
Application Deadline: 06 April 2022
Bashundhara Group All Jobs on the Bdjobs.com
Job Circular view and Apply: Click here
Bashundhara Group Job Application Form
The Bashundhara Group Application form must be filled in correctly. when clicking on the link We share the online application link above. Bashundhara Group Application form will open. From here you will see the required application form by clicking on the desired one and filling in the relevant information. Click on the Bashundhara Group Job Circular 2022 Online Application link above and go there to apply.
Bashundhara Group Job Apply 2022
Bashundhara Group Job Circular 2022 online application process and one for direct applicants to apply. You can find job details in the table in form of official declaration written by staff and if you want to job for this popular private company, follow the instructions in Bashundhara Group Limited Job Circular 2022 to complete the process and apply.
If you are a job seeker in Bangladesh, then visit our website regularly. We regularly publish all the job news in Bangladesh on our website. ‍Such as ongoing job circular , private job in BD, pharma job circular, bank job notice, government agency job in Bangladesh, today job circular, Bashundhara Group Job Circular, and job related all data.